It has been my honor to serve the LGBTQ Community since 1994 when it had not yet become legal. I always knew that Love is the most important thing in life while creating my Wedding Ministry. It was referred to as a "Commitment Ceremony" years ago before becoming legal and binding in all the states. I am so excited to continue joining couples with their own unique understanding of their vision! Many of the couples I serve have been together for many years and have selected everything from their private homes with family and friends to a large celebration of hundreds at a lovely Venue with everything in between! Words express little of the feeling of such a celebration and the Heartfelt gratitude of being part of their most perfect day!

Reverend Jacqueline (Jacqui) Weiks, M.S.S.

(828) 508-1911
E-Mail Rev Jacqui

Specializing in Many Loving Services since 1994
* Large or Small Intimate Weddings
* Elopements
*Vow Renewals
* Second Marriages
* Baby Baptism or Child Blessing
* Memorial Services

Julie & Sherry Truly a pleasure to work with. Made every effort to customize our commitment ceremony and make our day special. Always available to help and I would recommend Rev. Jacqueline to anyone wishing for a caring, loving and committed officiant.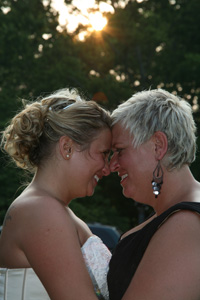 Rose & Junell Rev. Jacqui was amazingly open, understanding, flexible, easy to work with, giving, and all-around wonderful to work with. Very early in the process, Rev. Jacqui had provided us with samples and resources to inspire our constructing of our own ceremony. A few days before our wedding, we had just the vows to finalize and Rev. Jacqui helped us enormously by helping us build another 8 minutes or so of ceremony within just about 30 minutes. During her review of what we had provided, she noticed that we avoided using certain words, phrases, and concepts; the additional content she provided was perfect! On our wedding moving, I had some family drama erupt and Rev. Jacqui remained calm and supportive of me, while still getting the situation handled. Rev. Jacqui suggested that my now husband meet me half way to the arbor because no one was "giving me away"; we and our guests absolutely loved this and so very many people have said it was the sweetest thing! Also, we got married on a mountaintop without any sound system support; all of our guests were able to hear Rev. Jacqui; her voice projected very nicely without sounding like she was yelling. She whispered our vows so quietly and unnoticeable to us that our guests thought we had memorized the vows. We were thrilled to have chosen her to not just marry us but rather to save our day!!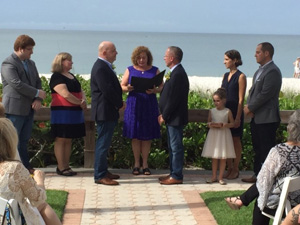 David & Al Rev. Jacqui was our officiant for an October Wedding. She was very professional and was very helpful with our ceremony and wedding vows. She helped organize how the flow went with our families and friends. We would recommend her to anyone - She was fantastic. Thanks for everything! Al and David
Stephen & Chris Rev Jacqui was amazing. We were in a pinch and needed someone quick. We were from out of town and needed to get the ceremony done quickly. Our first plan fell through and we were without a minister. We called Rev Jacqui and she dropped everything she was doing to come meet us. She was there within an hour and helped us make the most memorial day ever. We would highly recommend her to to anyone!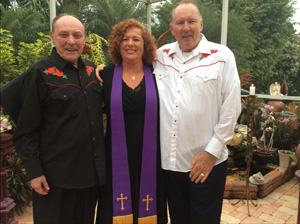 Chuck & Chris My husband and I recently hired the services of Reverend Jacqueline Weiks for our wedding in Naples, Florida. In the preparation for our wedding, we were living in Hong Kong so had to do all communications remotely. Reverend Jacqueline Weiks was the ideal choice for us. She was quick to respond and very professional. She was also incredibly flexible with arranging Skype sessions as we were so many hours in front of her. The best thing I would say about our experience was the flexibility she gave us with deciding on the script for the service. Reverend Jacqueline Weiks sent us 7 versions of potential service scripts and told us that we could amend any one to ensure our wedding was personal to us. After we had drafted a first attempt, she gave us incredibly helpful feedback which lead to the most perfect ceremony. We cannot thank Reverend Jacqueline Weiks enough as she gave us the best day of our lives - a day we will never forget. I would highly recommend her to anyone. Thank you once again Reverend Jacqueline Weiks!! Chris & Chuck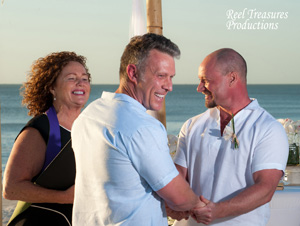 Amanda & Julia From the first time we spoke with Reverend Jacqueline Weiks over the phone, we knew she was the officiant we wanted for our wedding ceremony. You knew immediately that she loves her work and her enthusiasm is contagious. She provided us a great selection of options from which to choose and we were able to tailor our ceremony and vows to fit us perfectly. She is an eloquent speaker and there very few family and friends that made it thru the ceremony with a dry eye. Thank you Reverend Jacqui for making our wedding stress free and amazing!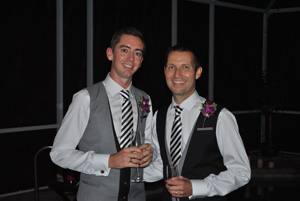 Mike & Doug I was very impressed and pleased with the flexibility and enthusiasm that was given to our ceremony. We selected a small service but felt like we were treated as well as if we selected a deluxe package. The professionalism, warmth, and sincerity were heart felt and made our life long memory even more remarkable.